Aaah! Such yummy food I had this weekend! Friday, I made Aloo Gobi, Papadums, Brown Rice and Tomato Chutney. We're still in need of a major "stock up" at the grocery store but I managed to grab a few things from the local market and figured I'd find a last minute Indian recipe featuring cauliflower and potatoes. And I did! Hooray!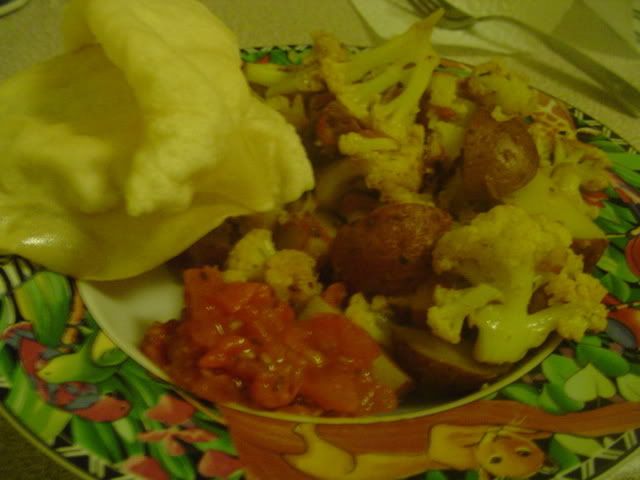 We traveled all day Saturday. Our first stop of the morning was at the East End Food Coop for tofurky, vegenaise, tings and fruit - 4 year old munchkin essentials for her sleepover with her sisters in Washington. We also picked up a few items for ourselves - namely, COFFEE, lara bars and an extra bag of tings.
Tings
are Incredible! Just like Cheetos but with nutritional yeast! I'm also now a huge fan of the Lemon and Cherry Pie
Lara Bars
! We mainly snacked all day until we finally settled at our final location -
Casa Nueva
- a worker owned restaurant and cantina! It was so popular that the wait for dinner was an hour - fortunately, the cantina was large and there was plenty of seating! We indulged our senses with some inexpensive beer - I got a Marietta Brewing Raspberry Wheat and a Rogue Chipotle Ale. Michael got a a 90 Shilling Ale and a Paw Paw Wheat. All were great and only $3 a pint. Plus, all draft selections are locally (Ohio) brewed. The bar menu is quite extensive and we ordered tofu fries and some great salsas. They serve non-GMO chips. We both ended chose Chimichangas. I left the camera in the car. Oops. No problem, though. Because look at the yummy breakfast we caught there the next morning...
Sunday was full of leftovers and some chips with the Roasted Veggie Salsa we purchased to take home! Mmmm. Nothing like having leftovers! I love it! It's like going out all over again!
I was rather uninspired last night but I still managed to make an impromptu dish - Tofu Lettuce Wraps that I served with vegan potstickers. Not too shabby.
Dessert came from the Farm Cookbook - Bread Pudding. Oh how I wish I'd had some ice"bean" to put on it while it was warm! That would have been divine. It was still a bunch of sweet, carby goodness, though!